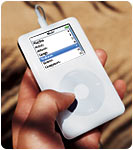 After months of waiting for the "right time" to shell out a wad of cash to buy an ipod, I finally took the leap on Saturday (I decided the right time was never going to present itself, so I might as well just bite the bullet). I have wanted one for a long long time. And not just because they are pretty and cool and everyone has one. I even considered other mp3 players, because honestly, I am a pc user through and through and the idea of bringing an apple product into my home (willingly) made me shiver (and not in a good way). Turns out, even my friend
Adam
thought ipod was the best way to go, so I made my decision. Then, the nano came out, more to consider.
Ultimately, I decided to get the 20G version because both Scott and I will be using the ipod (once we make a further investment for the car adapter). I will say that it was a big of a downer when I got it home and realized I couldn't immediately start playing with it because it needed to charge for five hours. Then there was the whole saga with my computer (it is old) and the fact that it is not compatible with the ipod and its fancy gizmo ways. So, we had to hook it up to Scott's computer (much more modern than mine) and we were off to the races. I seem to have had more success with it than Scott. He was complaining to me the other day that he couldn't figure out how to load his "Jamma Jamma Bamma" playlist (my words not his) onto the ipod and thought that if the itunes interface was so damn great why wasn't it easier to figure that out? This from a man who typically reads every word of a manual before he'll even start assembling something. He adamantly refuses to embrace my new ipod so anything he can do to badmouth it appears to be open season (from cost to appearance). That's okay. If he doesn't want to use it that means more room for me. That pink case I want to buy might also dissuade him...thanks to
Renaissance Runner
for his generous birthday contribution to the cause!