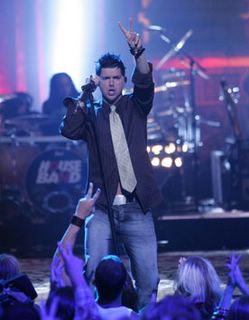 Since we already know that nothing of any consequence happens on Monday night (at least, not on Rockstar INXS) this is more of a vanity post than anything else.
Hey - how many whiny-pseudo-wannabe-rockers does it take to change a lightbulb? None - they get the band to do it in the background while they dance around out front trying to look badass.
Again with the toasting of Neal like he is dead. What is with all of the dudes bawling their eyes out like he was such a great contribution to rock? Gimme a break - he couldn't carry a tune in a bucket that guy. Get over it. Also, why does J.D. care if the other singers are "cool" with him? Only one person gets to be the lead singer of INXS dude. Balls out and go for it. Note, Brandon is a dipshit and he needs to shut it. Something else I learned - Mig is a sap (but all men are when it comes to them and their one and only).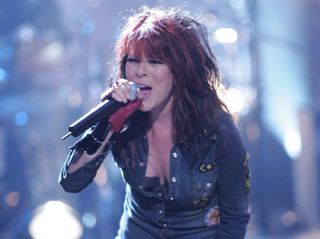 Rockstar Clinic - Stagecraft
(sounds like an optional course I tried to pass off as a required arts and science course....)
:
As a singer I know how hard it is to watch and/or hear yourself sing. On top of that to have a room full of singers critique you as well? Damn. That's tough. Question - why, oh why, do they keep picking on my man Ty? Also, Brandon needs to die in the face. He is such a douchebag, hypocrite, and a dumb dumb singer.
Song Selection:
J.D. tries to get Jordis to change songs with him, and actually convinces her to give up her first choice of "We are the champions". Kind of makes me want him to fall on his ass for doing that and playing head games with her. THEN, he tries to get her to switch back and she is all "whatever dude, talk to the hand" and that made me love her even more. What an idiot - again with the arrangement deal. I just loved how the band shut him down. HAH! I'm not sure whether tomorrow night is going to be a laugh riot or a quiet riot...guess we'll have to see.