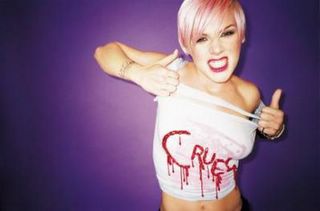 I don't like being asked for money. Not via the phone (which I rarely answer anyway), or a stranger knocking at my front door (which I rarely answer anyway), or at the grocery store check line ("would you like to donate $2 for MS research?"), or through work affiliated charity giving (you want to take MORE money off my paycheque??), and
ESPECIALLY
not when I am trying to enter the LCBO.
Scene:
Kat, after completing the weekly grocery shopping decides to go to the LCBO to buy some girl-drink-drunk-coolers and some staple-of-the-house-Canadian Club. The doorway of the LCBO is crowded with no less than seven women and their daughters plus their accompanying signs, pink balloons, pink ribbons and hands extended outward towards innocent unassuming customers.
Kat's Inner Dialogue:
"Fuckshitcuntwhorecocksuckerandtits - I really need to buy booze and there is no way around these bitches".
Soccer Mom:
"Would you like to support us in our breast cancer walkathon? We're walking 60 kilometres!"
Soccer Mom's Inner Dialogue:
"Certainly, if you have money to buy booze, you can afford to give us a little money."
Kat:
(attempting to dodge little girls dressed in pink - what the hell are they doing in the LCBO anyway??) "Uhhh...I already give to
other
charities..."
Kat steps into the LCBO only to be immediately accosted by a woman shilling Bailey's.
Bailey's woman:
"Ma'am, would you like to try some Bailey's?"
Kat's Inner Dialogue:
"I can't believe that woman who is old enough to be my mother just called ME Ma'am! ARRRRRGH - ALL I WANT TO DO IS BE LEFT ALONE TO BUY MY BOOZE IN PEACE!!!"
Kat:
"No thanks." Walking quickly to the back of the store searching for her coolers....
I know I sound like a total fucking bitch, but I absolutely despise being guilted into giving money. I give to charity, and not just $2 either. When I give to charity, I want a tax receipt, I want to know
where
the money is going and that it is a recognized charity. I will never support charities that use children to con me into giving money (awh, isn't that cute the little girl is selling chocolate bars) and I get super pissed off at people who position themselves outside of stores and attempt to get me while my wallet is still open.
Note: Baileys is fine in coffee and on ice cream, but not something that is exotic and needs to be sampled (we all know what the stuff tastes like). If you want me to buy it, give me a coupon or something but leave me alone.
And don't call me Ma'am, Ma'am.