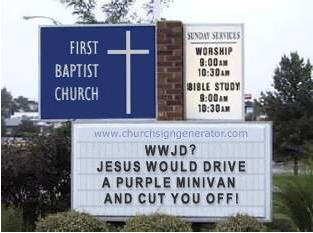 I am still on my WWJD kick, so please pardon my twelve-year-old sense of humour and roll with it. Not a lot to say tonight except a few random thoughts...
#1) Blogger has been sucking big donkey bullocks lately.
And, if I were Blogger I'd be all "screw you, it's free, we don't care what you think - IT'S FREE!" But
Adrianne
has flipped to movable type and
Jaime
has moved to WordPress, so I'm starting to think about it. I just don't want to put a lot of time into moving to something else -
Scott
thinks that the minute I start focusing on look and feel instead of content I will completely lose interest and stop updating. He might be right on this one and I hate it when he is right (and I am wrong) so I am still hemming and hawing (quite a sight really). But I am wicked jealous of Adrianne's new
dooce
style header, so I may just fiddle with my template and see what happens.
#2) I have this major brain blockage when it comes to the words affect and effect.
I know the difference, but I have this crazy fear that I will screw it up at work, so I usually try to avoid using both words altogether. Makes for some interesting/awkward wording and when that doesn't work, panic stricken emails to Scott asking him to confirm that my use is correct. We had a fifteen minute nerd-love dinner conversation about this exact topic last week and he quizzed me up and down, assuring me I was okay. But still the crippling fear lives on.
#3) The dentist called me back
and "lucky me" they can fit me in for a cleaning on Monday night because someone cancelled last minute. Joy oh bliss, I guess it is good that I have very little notice as it will minimize the potential sleepless nights and bad dreams. I fucking
abhor
going to the dentist (no fault of theirs as they are quite excellent and I drive all the way to Burlington because they are the least terrible dentist I have ever been to). I am the worst patient. I squirm in my seat, yelp at the slightest touch, demand no cold water and inform the dental hygienist right up front that I am well aware that I don't floss enough and she does not need to tell me and if she does I will never come back. When they stick those little pieces of plastic coated bits of cardboard torture in my mouth for x-rays I choke and dry heave. I can only imagine what they have written in my file. Maybe I'll lie to them and tell them I'm pregnant to avoid the x-rays. Scratch that, Scott's entire family goes to the same dentist so that might lead to some awkward conversations/disappointment.
#4) I didn't step on the scale this week,
but I did work out 3 times and do pretty well with the eating. I decided I'm
hella
cute and my curves are pretty sexy. I still want to get fit and lose weight, but I'm not going to hate on myself in the mean time...no sense in that.