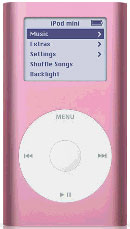 As part of my "congratulations on having a new job at the xbi" gift,
Scott
is going to make me a mix cd to listen to on the way to work. Since I'll be gone for a week, he says he'll have it ready for when I get back. Apparently he also considered getting me a pink
Ipod
mini, but decided against it. Too bad for me, eh? He asked me to come up with 20 songs that I would like to have on the cd, so I came up with a list for him. It strikes me that I should be incredibly embarrassed by my request list because there are certainly a few songs on there that are questionable. I have added a "*" where I acknowledge that I should know better.
Solitaire
will be happy to see that the new Destiny's Child singles have not made my play list (also not on my Christmas list thank you very much).
So, here's the list:
1, 2 Step - Ciara feat. Missy Elliott*
Pass That Dutch - Missy Elliot
Dip It Low - Christina Milian*
Drop it like it's hot - Snoop feat. Pharrell
Lean Back - Terror Squad (original not remix)*
Golden - Jill Scott
Bad Boy - Keisha Chante
I Try - Talib Kweli
Crabbuckit - K-OS
Suicide Bounce - Nas feat. Busta
Encore - Jay-Z
Talk About Our Love - Brandy & Kanye West
If I Ain't Got You (Kanye West Remix) - Alicia Keys
My Prerogative - Britney Spears*
Vertigo - U2
What You Waiting For - Gwen Stefani
Rich Girl - Eve/Gwen Stefani
Somebody Told Me - Killers
My Happy Ending - Avril Lavigne
Eight Easy Steps - Alanis Morissette
It should be noted that the last three songs are listed as such because I can live without them. Also, Scott is really good at playing things in an order that flows, so they probably won't be in this order.
Head Rabbit
&
Foot
, we can start the
asshole webring
now. Thank goodness
Jennifer
is not around to see this - she might decide to never ever speak to me again.